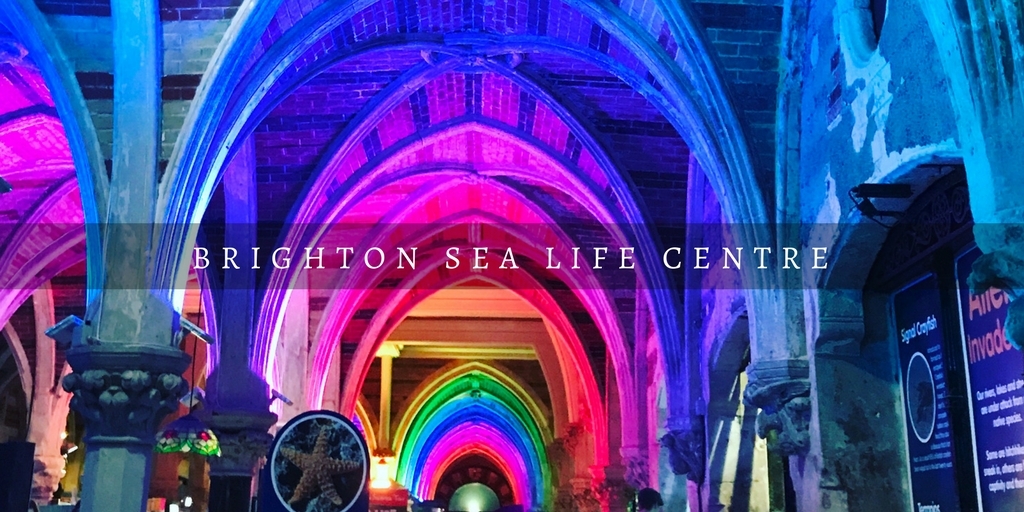 One of our favourite places to go for a day out in Brighton is the Sea Life Centre. The centre is situated right on the seafront, by the pier. Although there are a lot of steps down to the entrance, if you head down to the beach there is a tunnel. This is ideal if you have a wheelchair or a pushchair. The Brighton Sea Life Centre is actually the oldest operating aquarium in the world. It was built-in 1872 and features 3,500 mesmerising creatures including inquisitive sea turtles and magnificent sharks. It is a stunning building, full of Victorian architecture.
Clem has become a little obsessed with Disney movies, in particular Finding Dory. So whenever we go into Brighton she always asks if we are going to find Dory. I think we might have to invest a season pass soon. It's a really good aquarium for kids, not too big but also not too small. There is plenty to look at and experience. The last time we went Clem touched a starfish in the touching pool. The staff are always friendly and happy to answer any questions. As you enter the main hall you can't help but stare at the arches, brightly lit in all the colours of the rainbow. Now that we have been a few times Clem rushes through the beginning bits rather quickly so we can get to the glass tunnel and then onto the tropical bit.
"When life gets you down, you know what you gotta do? Just keep swimming."
I have to say the glass tunnel is really cool to walk through. There are sharks, two sea turtles, and many fish. Clem loves it as the sharks swim over head and she likes spotting the turtles. One thing that is great to keep kids amused, if they get bored with the fish then you can get a booklet as you enter and find the stamps around the building. Once they have collected all the stamps, they can get a reward as you leave. They recently added a new exhibit called Claw which features an extremely large Japanese spider crab. The tropical part is probably my favourite as well. I've always wanted tropical fish but never got them. There is a little glass tunnel in here, which hilariously I almost got stuck in as you literally have to go on your hands and knees if you are a grown up. There are so many Nemo's and dory's that Clem didn't know where to look!
Due to it's location right on the seafront it means you can wander along the beach, pier or into town if you have time to spare. Have you been to the Sea Life Centre in Brighton? If you have I would love to know if your little ones are as obsessed with it as Clem is.